Wiltshire Police promotional trolley coins 'wrong size'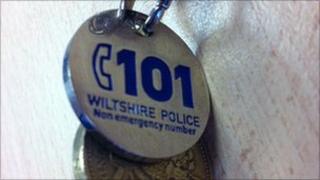 Ten thousand supermarket trolley coins bought by Wiltshire Police to promote its new non-emergency number 101 are the wrong size.
Although they work in some supermarkets they are not usable in all trolleys.
John Slater-Brooks from Sainsbury's in west Swindon said the problem was "clearly a dimensions issue".
Wiltshire Police said the error was made by the manufacturer, who will replace the tokens at no extra charge to the force.
The tokens are designed to be used to release locked supermarket trolleys in place of the £1 coin deposit, while promoting the new phone number.
A token seen by the BBC appears to be the same diameter as a £1 coin but not as thick.
Mr Slater-Brooks said the trolley locking mechanism was manufactured to use either a £1 coin or a Euro.
"This is a standard unit fitted to every supermarket trolley in the land," he said.
"The 101 coin is the wrong size so clearly it's a dimensions issue with the coin."
The 101 non-emergency number is part of a UK-wide drive to reduce pressure on the 999 service.
It was introduced across the county in September.