South West Veterans Mental Health Service launched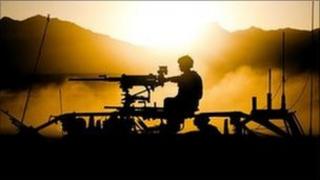 A new service offering mental health support for ex-military personnel in the South West has been launched.
The South West Veterans Mental Health Service has been set up by Avon and Wiltshire Mental Health Partnership Trust (AWP) and charity Combat Stress.
It will be run via a website and helpline, and use facilities at existing NHS locations including Chippenham, Swindon and Bristol.
The service has been launched on World Mental Health Day.
About 42,000 serving personnel and a large number of veterans are based in the South West.
Service leader, Andy Lauder, said: "Inevitably when people leave the service they tend to settle where they're based, and that means we have a large number of ex-serving personnel.
"There's always been a problem with mental health issues, with the stigmatisation of it.
"We want to try and break that down to make it as easy as possible for people who suffer and their friends and families to be able to access the services that are already out there."
Dr Arden Tomison, executive medical director of AWP, said: "We know that one in four people will, at some point in their lives, be affected by poor mental health.
"While veterans have the same issues to deal with as anyone - depression, stress, anxiety, etc. - the added stresses of combat and service life can compound those problems."
The service's website will offer advice and guidance and a self-referral helpline has been set up.