Plans to redevelop Salisbury Market Place 'thrown out'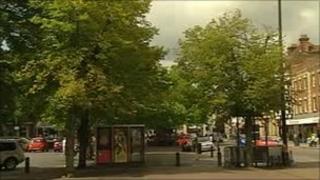 Plans to redevelop the Market Place in Salisbury have been withdrawn.
The scheme, by the Salisbury Vision town regeneration group, involved the removal of 34 trees from the square.
More than 11,000 people signed a petition to save the trees, and members at a council area board meeting on Monday voted unanimously to withdraw the original planning application.
Salisbury Vision has handed the project over to Wiltshire Council's Salisbury area board.
The Market Place project, funded by Wiltshire Council, was expected to start on site at the beginning of 2012.
'Emotive subject'
The original plan involved moving the war memorial in the Market Place to allow more space for remembrance services, and removing and replacing the existing trees - said to be either diseased or causing root damage - with 25 new ones.
Councillor Richard Clewer, who chaired the board on Monday, said he did not think "people were consulted enough" over the plans.
"The first thing we did last night was withdraw the existing planning application - which people clearly are unhappy about," he said.
"It's very tricky to get the balance right when it's an emotive subject like trees.
"But now the project will be decided by local people."
Laura Bell, one of the petition organisers, said she was "really very pleased that the plans have been thrown out".
"There's no need to fell those trees," she said.
"What we've said all along is that we we'd like them to stay and local people would like the trees to stay - so why should that be a barrier to improving the Market Place?"