'Major water leak' closes road in Wiltshire town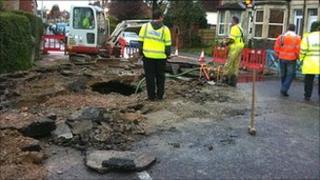 A burst water main has closed a road in the centre of a town in Wiltshire.
The eastbound section of the A420, Park Lane in Chippenham has partially collapsed due to a "major water leak" at about 04:30 BST.
Wessex Water said a main had leaked between the pumping station at Ivyfields and Hardenhuish reservoir, but once the pumps were turned off the water would recede.
Wiltshire Police said St Pauls Street and Marsh Field Road were also flooded.
Local resident Marina Seagar said she alerted the police at about 04:00 BST after she found water pouring out of the ground.
"I heard a bang and didn't know what it was," she said. "And I looked and a minute later the road started to crack up and water was pouring out."
'Water everywhere'
Another resident, Fiona Brock, said she woke up to find "water everywhere".
"I was more concerned about the neighbours because you could just see hundreds of gallons of water just pouring through their garden and down their path," she said.
"It was several inches deep and if you'd had a young child crossing it, it would have taken them off their feet."
Wessex Water said the problem had been identified but the road could remain closed for the rest of the day.