Ex-Gurkhas guard housing development in Wiltshire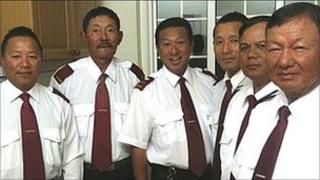 A construction site in Wiltshire is being guarded by a team of ex-Gurkhas.
The nine former Nepalese soldiers have been hired to patrol a new housing development at the former Canadian Barracks at Bulford Camp near Amesbury.
Having retired from the Gurkhas Regiment they were taken on by Octavian Security Ltd and have kept the same order of command in their new role.
Former Regimental Sergeant Major Gyan Limbu, now a supervisor, said it helps to maintain "order and discipline".
He said: "With all of us having military backgrounds it made sense to implement a similar structure.
"And we share a rented house, so it's important that everyone has a clear role to make sure everything gets done."
The veteran security staff also have a strict fitness regime and regularly run the three-and-a-half miles (5.6 km) to and from work.
Running to work
RSM Limbu, who also worked for the Sultan of Brunei's Security Forces, said: "Gurkhas are not lazy.
"Even in the jungle we cooked for ourselves and we cleaned our tent," he said.
"And when there's a problem with transport, we don't have a car, we run the 35 minutes to work."
Jot Engelbrecht, chief operating officer at Octavian Security said RSM Limbu and his team were "doing an impressive job".
"It has been fascinating to watch the group work together and bring military style organisation and efficiency to their security role," he said.
"Both the company and the client have been impressed with their professionalism, dedication and tenacity for the job in hand."