Army wife claims Bulford home 'infested with fleas'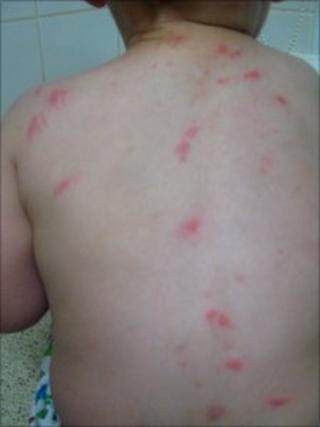 An army wife living in service family accommodation in Wiltshire claims the property has been infested with fleas for more than two years.
Jodie Allinson, a mother of two, rents her three-bedroom house from MODern Housing Solutions (MHS) in Bulford.
She said despite repeated flea treatments her three-year-old son was "covered from head to toe" with bites.
An MOD spokesperson said it was "doing everything possible to resolve the issue".
The MHS housing association is contracted by the estates arm of the MOD to carry out maintenance tasks in the homes of 45,000 Service Families across England and Wales.
It has offered the family alternative accommodation an hour outside of Bulford, but Mrs Allinson says she can not afford to take that option.
She said the flea problem had recently worsened.
"We get them every summer but three weeks ago, we noticed it was really bad," she said.
"My son must have about 30 bites alone on his stomach, and another 20 on his back - he's got them everywhere.
"I'd like them to either treat the house properly so my children don't get bitten or move us away so we don't have to live with this problem.
"You can't let people live like this. We deserve better."
An MOD spokesperson said they were "taking this problem seriously" and doing everything possible to resolve the issue.
"The MOD provides a comprehensive maintenance service for Service family homes and a thorough treatment of the property took place last week," they said.
"This was followed by a second treatment on Tuesday and our technical advisors will meet Mrs Allinson to offer further advice on keeping the problem under control."