Police question three people over Leonard Adams murder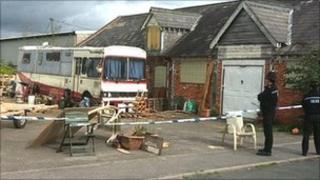 Police have been granted more time to question three people being held in connection with the murder of a man whose body was found in a field.
The body of Leonard Adams, 43, who lived in Station Road, Semley, was found near Semley on Saturday.
Two men in their 40s and a 25-year-old woman were arrested on Sunday. A third man has been released without charge.
Magistrates sitting in Salisbury granted Wiltshire Police an extension until midnight on Thursday.
All three were arrested on suspicion of murder.
In a statement the family said: "The family and friends of Lennie Adams will certainly miss a father, brother, uncle and truly unique friend to many.
"We ask that anyone who has information about Lennie's death contacts the police."
A police spokeswoman has asked the driver of a dark Land Rover Defender, which pulled over in the Railway Bridge area of Semley at 17:00 BST on Friday, to contact the force because "they may have vital information".
She also asked anyone who saw anything suspicious in The Marshes, Marshes Farm and Semley area between 08:45 BST on Friday and 12:30 BST on Saturday to get in touch.