Lap-dancing study funded by research council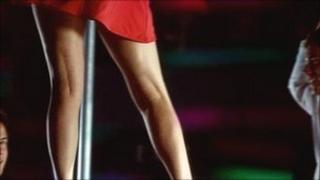 Fears about house prices are the chief reason for complaints about new lap-dancing venues, a professor has said.
Prof Philip Hubbard of the University of Kent is involved in a 12-month study on the effects on communities of lap-dancing clubs, thanks to a Economic and Social Research Council (ESRC) grant.
He said research shows that nightclubs attract more anti-social behaviour than lap-dance venues.
The Swindon-based ESRC has provided nearly £120,000 for the study.
The research is being carried out by Prof Hubbard and Dr Rachela Colosi of the University of Lincoln.
Prof Hubbard said they would not be looking at what goes on in lap-dancing clubs but studying the impact the venues have on local communities.
'Evidence needed'
He said: "I've been doing research in America and particularly in Australia, and research there suggests that the type of anti-social behaviour and criminal behaviour around most lap-dancing clubs is very low compared with clubs and nightclubs.
"But homeowners tend to be the people who complain the most about a lap-dancing club opening and this is really to do with anxieties about property price."
According to the project group, there are about 300 dedicated clubs offering lap-dancing entertainment in the UK.
It said the introduction of more stringent forms of licensing under the Policing and Crime Act 2009 had resulted in some local authorities declaring "there are no suitable locations for lap-dance clubs within their boundaries".
"The fact of the matter is we really don't have any evidence in this country about what the impacts are," said Prof Hubbard.
"And this research will help those responsible for issuing licences make better informed decisions."
The study will culminate in a workshop for licensing officers and community safety groups.
The ESRC, which has awarded £117,839 for the study, has a total budget of £203m this year and is the UK's largest funder of research on economic and social issues.