Wiltshire puppies found dumped in bin bag in woodland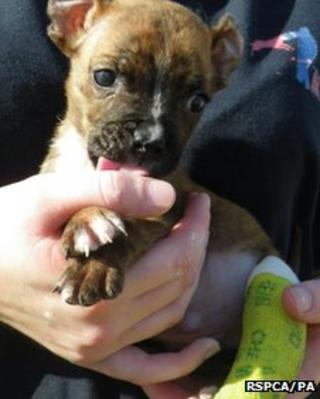 A puppy has been put down and another given treatment after being found dumped in a bin bag in Wiltshire.
The two Staffordshire Bull Terrier-cross puppies were discovered by a member of the public in an area known as Bluebell Woods, near Salisbury.
A four-or five-week-old puppy who had been blinded by eye ulcers was put down and the other is receiving treatment for a leg abscess and minor injuries.
The RSPCA said it was a "callous" act and had launched an investigation.
Patrick Bailey, an RSPCA inspector, said: "The suffering of the puppy found with ruptured eyeballs does not even bear thinking about, and his littermate was not in a much better state."
The area of woodland where the puppies were dumped is just past fields behind the village hall in Middle Winterslow.
It is thought somebody in the small village may have witnessed someone acting suspiciously.