Ring lost in Wiltshire returned after 180 years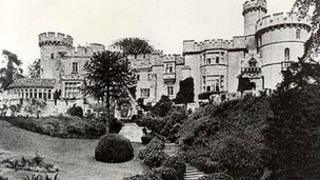 A ring dug up at a garden centre has been returned to the family of its owner, 180 years after it was lost.
The gold ring, dedicated to a Lady Ann Hare, was found by Janet Hollingworth at a conifer nursery near Devizes Castle, in Wiltshire, in the 1970s.
Kept for 40 years in a drawer, the ring's history was finally traced last month and it was returned to the Hare Estate at Stow Bardolph in Norfolk.
Miss Hollingworth, 64, said she was glad "it had gone back to the family".
"I was in my 20s when I found it and in those days there was no internet," she said.
"So I took it to the museum in Devizes but they said there was no trace of a Lady Hare in Wiltshire and so it was forgotten."
For more than 40 years, the ring remained tucked away in a drawer until former neighbours helped Miss Hollingworth track down Lady Rose Hare in Norfolk.
Coaching inn
"I was too shy to ring her up but when I plucked up the courage and phoned her, she was so excited," she said.
The gold ring belonged to Sir Thomas Hare whose wife, Anne Elizabeth Hare, had died following an operation in 1823.
Lady Rose Hare said she thought Sir Thomas had been on his way to visit his father-in-law, Rear-Admiral Thomas Graves, in the West Country when he lost the ring.
"We think he wore it on his little finger and lost it when he stopped off at a coaching inn in Devizes," she said.
"We have portraits of Sir Thomas but things like this bring somebody much more to life.
"And it's extraordinary all the trouble that Miss Hollingworth has gone to to find us and we are delighted to have it back."