Paramedic suspended after life support machine blunder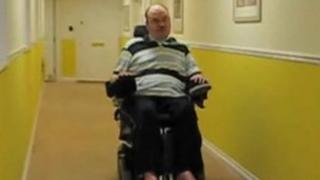 A paramedic who failed to ventilate a tetraplegic, whose life support machine had been switched off, has been suspended for a year.
Neil Crawford, who worked for Great Western Ambulance Service (GWAS), was disciplined by the Health Professions Council for failing to act properly.
He treated Jamie Merrett at his home in Devizes in January 2009 after his life support was turned off by his carer.
Mr Merrett, 38, suffered serious brain damage after the incident.
He had been left paralysed after a car crash, and had set up a bedside camera at his home in Wiltshire because he had become concerned about the care he was receiving.
His carer, Violetta Aylward, an agency nurse working for the NHS, was filmed switching off her patient's life support machine.
'Failures'
CCTV footage of the incident, which also showed the arrival of paramedics, was used in evidence during the two-day hearing.
A disciplinary panel found that Mr Crawford failed to conduct an Airway, Breathing and Circulation (ABC) assessment of the patient when he first arrived at the scene.
It also found he failed to provide the patient with oxygen, and that he falsely informed the air support paramedics that he was unable to obtain a radial pulse when he never attempted to do so.
Mr Merrett is now being looked after at a care home in Somerset. Ms Aylward is waiting to hear if she will face disciplinary action next year.
Following the ruling, spokesman for GWAS, John Oliver, said: "The welfare and appropriate care of our patients is always our main priority.
"Following this incident in January 2009, the trust became aware that the paramedic who was first on scene failed to provide the level of care demanded of a professionally registered clinician and subsequently provided inaccurate and misleading information to the resulting investigation.
"The individual was initially suspended by the trust and, following an internal investigation and disciplinary process, he was subsequently dismissed.
"We also notified the Health Professions Council, resulting in this week's hearing."