Car art to decorate building in Swindon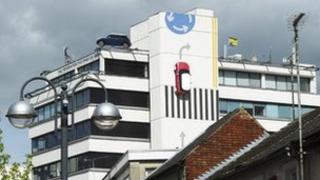 A building in Swindon is to be decorated with a road scene, complete with two full-size replica cars.
Plans for the public art on Alexander House in Fleming Way were approved by council planners.
The scene will include two fibreglass Minis, a roundabout and a zebra crossing. It follows a competition for a design.
The project will cost about £5,000 and will be paid for by the building's landlord Lenta Business Centres.
Revolving pigs
A Swindon Borough Council committee gave planning permission at its meeting on Tuesday evening.
The winning design entry included plans for solar powered revolving pigs but organisers said this was too difficult and too expensive to be implemented.
The replica Minis are owned by BMW and were formally on display at its body pressings plant in the town.