Royal Wootton Bassett's charity single to be released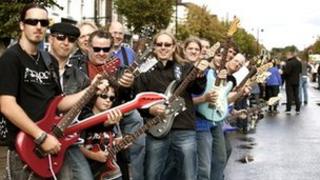 A charity song performed by the people of Royal Wootton Bassett to honour fallen war heroes is to be released.
The Wootton Bassett Rocks! single, a cover of Green Day's Wake Me Up When September Ends, is the brainchild of Tracy Rogers, whose brother was killed while serving in Afghanistan.
She said she wanted to do "something meaningful" to remember her brother and other fallen soldiers.
Its online release also marks the end of military repatriations in the town.
Ms Rogers's brother, Capt Mark Hale, was repatriated through the town in 2009 shortly after he was killed by an IED (Improvised Explosive Device) while helping an injured soldier.
Leaving a legacy
"Following the devastating loss of my brother, and being local to Royal Wootton Bassett, this project means so much to me," said Ms Rogers.
"My family and I felt the love and support from the community on the day of Mark's repatriation, and by bringing together the community in a project which will leave a legacy and ongoing support for bereaved families and injured soldiers, I feel I have been able to say thank you to the town."
Having secured the local support needed, musicians and singers from Royal Wootton Bassett were enlisted along with two choirs and more than 200 townsfolk to record the song.
Recording and mixing took place at Peter Gabriel's Real World Studios in Box, with additional recording in St Bartholomew's Church in Royal Wootton Bassett. The final production process took place at Abbey Road Studios in London.
Ms Rogers said: "I am so proud of what we have achieved, from the concept only five months ago to where we are today with a beautiful single by local musicians and singers and our stunning video by the people of Royal Wootton Bassett."
Raising money
The accompanying video for the single features more than 1,000 local people and was filmed in the town's High Street one Sunday in September.
The video was directed by Mark Kenna, of Royal Wootton Bassett-based Dreambase Studios.
Mr Kenna said: "Being a local company, it was a real pleasure to be asked to get involved with this project, to steer the project in the right direction and to realise the concept from start to finish within such a short space of time.
"This requires great effort, dedication and support which I found in the people of Royal Wootton Bassett."
The single and video can be downloaded from 27 November from iTunes and other online retailers.
All proceeds from the single will go to military charities: The Royal British Legion, Combat Stress and The Undentable Trust and Soldiers, Sailors, Airmen and Families Association (SSAFA).
Ms Rogers added: "I really hope that the British public love what we have achieved and fully support by buying both the single and video and help us raise £1m for our chosen charities."