Swindon Facebook campaign fiance ties the knot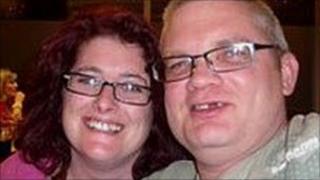 A Swindon woman who launched a Facebook campaign to persuade her fiance to tie the knot has finally got married.
Paul Mapplethorpe promised he would set a wedding date if 31-year-old dinner lady Kelly Coxhead managed to get a million members to join her group on the social networking website.
Despite attracting just 170,000 users, Mr Mapplethorpe agreed to marry the mother-of-four on 11 November.
At 1500 GMT on Friday the couple were married at Swindon Registry Office.
Over the past 10 years, the couple had set several dates for their wedding which, due to "circumstances", had not happened.
Frustrated, Ms Coxhead set up her Facebook group - "I need one million people to join for Paul to marry me - come on guys help me!" - in February "as a bit of a joke".
'Billion members'
"The million was Paul's idea but the page was my idea," she said.
"But when my cousin decided to contact the press - it just went a bit crazy"
In just over a month, the campaign attracted more than 170,000 members before the group was attacked by hackers and deleted by Facebook.
Despite attracting less than the target million members, Mr Mapplethorpe agreed to honour his promise.
"She actually asked me when I was half asleep and it was the first figure that came into my mind," he said.
"But if I'd wanted her to fail I would have done a billion."