South Wiltshire CCTV cost under review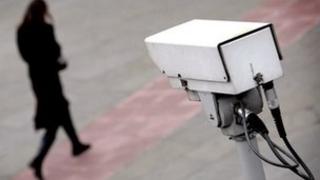 A review has begun into a £328,000-a-year CCTV system which covers Salisbury and two neighbouring towns.
The Conservative-led Wiltshire Council currently pays for the scheme but is under pressure to make savings in its budget.
Wilton and Amesbury town councils do not currently pay towards its running costs but do benefit from the scheme.
A Wiltshire Council spokesman said its review would also look at the whole south Wiltshire area.
There are 11 different CCTV systems covering 14 areas across south Wiltshire.
The council will also explore whether to update the current outdated equipment.
'Best solution'
Wiltshire Council has estimated it will cost up to £450,000 to update the equipment and relocate the control room.
It is hoped that by updating the equipment from analogue to digital, running costs could be lower in the long term by up to £50,000 year.
Cabinet member Keith Humphries said: "We have a team allocated to review CCTV as we recognise that we need to look at what's needed across Wiltshire and what will provide the best solution for our residents.
"The team will meet this week to scope the review and agree the timetable for delivering future proposals."
Other ideas being investigated include sharing the running costs with third parties and finding new sources of income such as schools, leisure centres, hospitals, railway and bus stations.