Retirement village plan for Mechanics Institute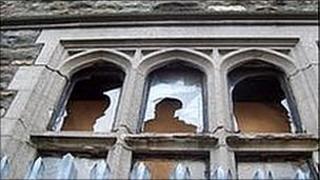 A charity run by Prince Charles wants to turn Swindon's Mechanics Institute and Railway Village into a retirement village.
The Prince's Regeneration Trust has been looking into long-term options for the site on behalf of the council.
Swindon Borough Council's working party has looked at the idea and believes further research is needed.
Deputy leader Garry Perkins said: "Everybody wants to find an answer so it won't continue to deteriorate."
The institute opened in 1854 as an educational centre for railway workers, but closed in 1986.
The Railway Village was built by Victorian engineer Isambard Kingdom Brunel for railway workers in the 1840s. It is now occupied by social housing tenants.
This housing stock could be transferred from the council to a housing association depending on a vote by the tenants next year.
The working party has recommended paying £10,000 towards a full investigation from the Prince's Trust to explore further ideas.
The Prince's Regeneration Trust specialises in helping to bring buildings at risk of demolition or decay back into use, by working closely with building owners, local authorities and community groups.