Divers called in to clear the River Avon in Chippenham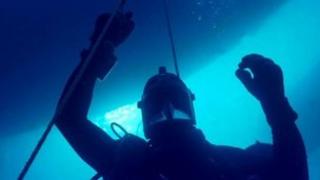 A diving group has been recruited to tidy up part of the River Avon in Chippenham.
Members of Calne Divers will clear a half-mile (800m) stretch between the town bridge and the footbridge by the golf course in Monkton Park.
Volunteers will also clear rubbish from the riverbank at the event on Sunday.
Adrian Jones, from Chippenham Town Council, said it was "great" they had given up their time to help clear the river.
"The River Avon is a real landmark feature for the town and it is great that volunteers from the rivers sub-group of the Chippenham and Areas Partnership (ChAP) and the Calne Divers have given up their time to help tidy this valuable asset of ours," he said.
Jon Dodsworth, from Calne Divers, said: "As a club we appreciate the waterways and inland dive sites perhaps more than most and it's only right that we should help look after them when we can."
The divers will carry out more than 20 dives between 10:00 GMT and 15:00 GMT.