Swindon women targeted in Christmas safety campaign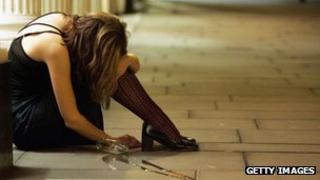 Women in Swindon are being targeted in a new seasonal safety campaign by the town's Community Safety Partnership.
Police are handing out pink cards with room for an emergency contact number, in case women are too drunk to find their way home or get lost.
Wiltshire Police recommend that women carry the cards about their person, rather than in their bag or purse.
It is hoped this will mean women will have a safe number to call if their bag is stolen.
'Gentle reminder'
Other elements of the safety campaign include taxi marshals, street pastors, details of domestic violence and abuse organisations, and free condoms to promote safer sex.
"We're not trying to stop people enjoying themselves or having fun," said Ch Insp Mike Jones, who is in charge of neighbourhood policing.
"It's just a gentle reminder about common sense that sometimes gets forgotten when we've had a few drinks."
Wiltshire Police has been running a Christmas safety campaign for some years, however this year the force has borrowed some new elements from police in Northumbria.
"We will never know how many people don't take precautions before they go out," said Jane Dudley from the Swindon Community Safety Partnership.
"This campaign was launched successfully in Northumbria and they saw a great drop in young females needing assistance.
"We've gone to them and said 'can we borrow your campaign please?' and they very kindly said 'yes'.
"It did show good results, [it's] tried and tested."
According to NHS Swindon, 70% of hospital admissions during the Christmas period are alcohol-related.
"The short-term risks are obviously alcohol poisoning, but also drinking so much you fall over, fights occur and you get cuts and bruises," said senior public health manager Frances Mayes.
"Obviously the longer-term risks can have an effect on lots of different diseases from cancer to heart and liver disease."
As part of the campaign, the white double-decker Swindon Safe bus, which has a medic on board, will be positioned in town at the weekends to help anyone who is "worse for wear".
The Keys, money, phone. Plans to get home? campaign is backed by Wiltshire Police, Wiltshire Police Authority, Wiltshire Fire and Rescue Service, Wiltshire Probation Trust, and NHS Swindon.