The Princess Royal opens Dents' new Warminster factory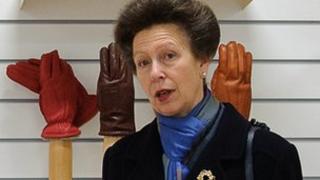 The Princess Royal visited Warminster in Wiltshire to officially open a long-standing local firm's new premises.
Glove maker Dents has been based in Warminster for more than two centuries and recently moved to a new £4m custom-built site on the outskirts of the town.
The firm, which started in 1777, has supplied handmade gloves to royalty, celebrities and the film industry.
Director Deborah Moore described the royal visit as "wonderful".
"She met so many staff and they spoke to her, it was lovely, and the building now really does feel like it's opened," she added.
The princess unveiled a plaque to commemorate the official opening of the new building and toured various departments within the 48,000 sq ft facility.
She was also presented with a donation to the Princess Anne's Charities Trust and a pair of Dents leather gloves.