Erlestoke Prison 'has drugs and bullying problem'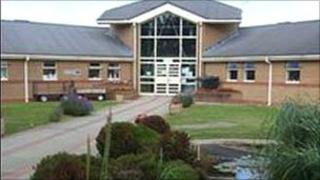 An inspection at a Wiltshire prison has shown that illicit drugs and bullying remain a "serious problem".
The latest report on HMP Erlestoke, near Devizes, said prisoners' basic needs were being met and "good quality education and training" were available.
But inspectors said despite efforts to address the problem, illegal drugs were still available in the prison and bullying remained "a major concern".
The procedure of searching prisoners was also said to show "weaknesses".
The last full inspection of the prison was carried out in 2008 when a number of concerns, including the high levels of bullying, poor standards of accommodation and the prevalence of illegal drugs, were raised.
Nick Hardwick, the chief inspector of prisons, said the issues around drugs and bullying were still "a serious problem".
'Got under control'
"It was worse in 2008 but the prison has made some progress," he said.
"They've resourced dealing with it properly now, staff are better trained to intervene but the level is still too high and it is a serious problem and needs to be got under control."
Despite the outlined concerns, inspectors concluded overall that "the range of measures the prison has now got in place are working".
"From the report that was done in 2008 there's been dramatic improvements in the majority of areas around care and conditions for offenders, healthcare provision, work and education," said Andy Rogers, the governor of Erlestoke Prison and Shepton Mallet Prison.
According to Mr Rogers, 2,500 prisoners have been drugs tested over the past year with one in 25 testing positive.
"Drugs and bullying are problems in most prisons but we've got a very robust strategy here and we've done a large amount of investment in terms of training in challenging behaviours of offenders at Erlestoke.
"But it's a good report and we are challenging in a robust intelligent way how we deal with anti-social behaviour."