Wootton Bassett road signs in eBay charity auction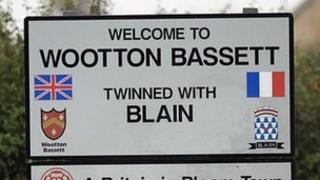 Two "Welcome to Wootton Bassett" road signs removed after the town was given its royal status have gone on sale.
Wiltshire Council is selling the signs on the auction site eBay to raise funds for the charity Help for Heroes.
Two "Royal Wootton Bassett" signs, created for the town's renaming ceremony in October, are also for sale.
Deputy leader of the council John Thompson believes the signs are "war memorabilia" and hopes a buyer will donate one to the Imperial War Museum.
Mr Thompson said the signs were part of "the military history of this country".
In October, Wootton Bassett became the first town in Britain in over a century to be given a royal title.
It was renamed Royal Wootton Bassett for its role in paying tribute to British soldiers killed during the wars in Iraq and Afghanistan.
But rather than "throwing the old Wootton Bassett signs in the tip", council leader Jane Scott said the Conservative-run authority had decided to sell them.
"Having seen the signs being taken down, it seemed a shame not to take advantage in trying to raise some money for our soldiers.
"I think the buyer may be somebody who has been to one of the repatriations in Wiltshire, or be someone who just wants war memorabilia, but we think there may also be a lot of interest from other countries."
The four signs have been individually listed on the online auction site under the category "collectibles", with a starting bid of £50.00.
Mr Thompson said: "We suggested putting these signs up for bidding across the world because we think they will fetch a lot of money for a very good cause.
"And we're hoping that someone will buy one and donate it to the Imperial War Museum, because it is about the military history of this country."
The auction is due to end at 08:36 GMT on 23 December.