Great Bustard Group plans to rear chicks on Salisbury Plain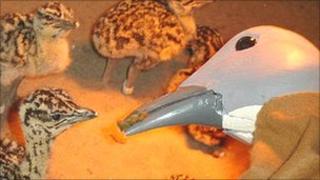 A group that wants to re-populate the UK with bustards has launched a fundraising campaign to enable it to rear chicks for the first time.
The Great Bustard Group, based on Salisbury Plain, wants to import eggs from Russia and hatch them on the site.
The world's heaviest flying bird, hunted to extinction in the UK in 1832, was reintroduced to Salisbury Plain by the group seven years ago.
The group, which has since released more than 100 birds, needs £10,000.
Currently, six-week-old chicks, reared from eggs in Southern Russia, are flown to the UK and released following a 30-day quarantine period. Puppets are used to feed the chicks as substitute mother figures.