Salmon study in Wiltshire rivers carried out by trust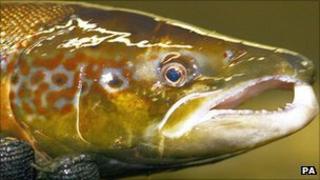 A conservation charity in Wiltshire is carrying out a study into the decline of salmon in the county's rivers.
Wiltshire Wildlife Trust says numbers of the fish spawning in the Salisbury stretch of the River Avon has halved in five years.
Water temperature, flow and oxygen levels affected by milder weather is considered to be the cause.
Trust director Gary Mantle said: "In the next three years, salmon could be extinct from the river."
In order to spawn, salmon have to return from the ocean to the same river in which they hatched.
Firstly the salmon has to adjust its body to live in river water, then it has to swim upstream against currents and pollution to return to its birthplace.
'Clean the gravel'
In a study at Knapp Mill, near where the Avon enters the sea, it was found that over the past five years the number of salmon swimming up river to spawn has halved.
The trust is to use automatic data loggers to record temperature, PH and oxygen levels in the section of the River Wylye it owns.
It is also using special gravel cleaning equipment which removes sediment and algae which can smother eggs and suffocate the developing salmon fry.
Mr Mantle said: "We want to get into the river and clean the gravel so we provide a much better spawning area for the fish.
"It's a range of activities that we can do and we need to make sure we conserve the fish so that the few that remain are protected as well."