First Great Western puts fares up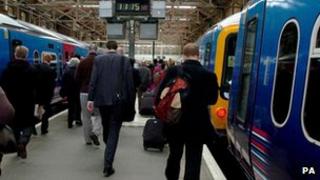 First Great Western has said it will increase train fares by an average of 5.8% from January.
The company has promised that none of its fares will rise above the 6% formula set by the government.
The Association of Train Operating Companies said money raised would help improve services and stations.
Chris Irwin, from passenger group Travelwatch South West, said it was "good news" the company had tried to "throttle back" the fare increases.
He added: "Having said that, there's no doubt that with people working with frozen wages, or at least capped to 1%, it's a very tough time."
UK-wide fares will rise by an average of 5.9% from 2 January, the Association of Train Operating Companies said.
First Great Western runs train services between London, the west of England, south Wales and parts of the Midlands.
'Reduce fares'
The government has also advertised the contract to run mainline services in south-west England for the next 15 years when the Great Western contract ends in 2013.
In May, First Great Western said it did not want to take up the option to extend its franchise beyond March 2013, but wanted instead to try to negotiate a longer-term deal.
In December 2005, First Group was awarded the franchise to run services in the Great Western area.
It was already running the Intercity and Thameslink services while National Express was running Wessex Trains, which was combined into the enlarged franchise awarded by the government.
Speaking in a special Commons debate on Tuesday, Robert Buckland, the Conservative MP for South Swindon, said he hoped the new franchise-holder would reduce fares.
Conservative Rail Minister Theresa Villiers said she hoped mistakes made in the past would not be repeated.
"We do, as the honourable member from South Swindon said, need to learn lessons from the serious mistakes made when the current franchise was let under the last government," she said.
"After reduced service was specified on a number of routes, demand increased considerably once the new franchise became operational, resulting in very controversial crowding issues which were compounded by significant problems with reliability."