Salisbury's 100-year-old sewer system is to be renovated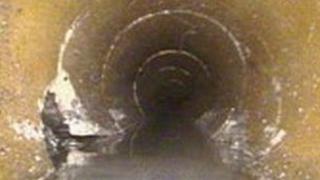 A £200,000 project to repair a 100-year-old sewer system in Wiltshire will start in the new year.
The revamp of the Salisbury sewers will begin on 16 January and is due to take eight weeks.
Nearly 500m (1,640ft) of sewer pipes will be relined or replaced after damaged areas were found by CCTV robots surveying the condition of the pipes.
Wessex Water said repairing pipes from the inside using "trenchless technology" would minimise disruption.
However, diversion routes and road closures are expected to affect city centre areas such as Blue Boar Row, Winchester Street, Brown Street and Castle Street.
Wessex Water project manager Alex Aulds said it was vital that work began early in the new year.
"If left, there is the possibility that they could collapse or burst," he said.
"Due to the condition of many areas of the sewer we will need to carry out repairs which will require excavations.
"But we will ensure that where possible, work will be completed during the night and outside of peak hours to minimise disruption to motorists and local people."