Ex-footballer Phil King will not face retrial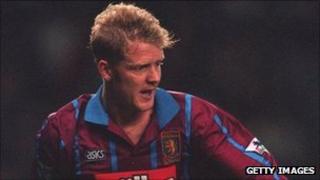 A former Premier League footballer who was accused of cashing cheques from the victims of a building fraud will not face a retrial after a jury failed to reach a verdict.
Phil King, 43, from Swindon denied six counts of converting criminal property.
Trevor Bateman, 54, from Swindon, and David Merriman, 49, from Nottinghamshire, were convicted of various fraud-related charges.
The two contractors, who had denied the charges, will be sentenced later.
The prosecution said the fraud was carried out by Merriman and Bateman, whose business AS Contractors, undertook building work that was said to be "poorly performed, overpriced or simply unnecessary".
Oxford Crown Court was told they had cheques cashed at the Dolphin Hotel in Rodbourne, Swindon, which Mr King runs.
Mr King was part of the Swindon Town squad which won promotion from Division Three in 1987, before being transferred to Sheffield Wednesday.
He moved in 1994 to Aston Villa, for whom he scored the winning penalty in a Uefa Cup tie against Inter Milan.