Vigil for Rowde New Year's Eve crash victims takes place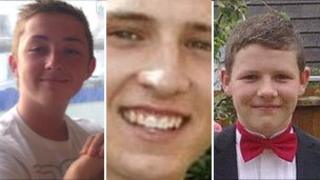 A vigil for three teenagers who died when their car hit a tree in Wiltshire a year ago has taken place.
George Forester, 17, Frankie Bowyer, 16, and Jamie Walker, 17, died in the crash near Rowde on New Year's Eve 2010.
George's brother, Jack, was driving the car at the time and had swerved to avoid hitting a deer on the A432.
The coroner recommended a reduced speed limit on the road which Wiltshire Council will consult on in February.
Frankie was declared dead at the scene, Jamie died later that day in hospital and George died from his injuries on New Year's Day.
The three friends, from Chippenham, were in a Renault Clio.
Friends and family of the three teenagers gathered at Pewsham Park in Chippenham.