Police officers cleared of racially abusing Bath doorman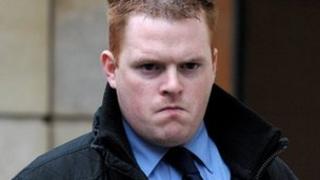 Two police officers accused of racially abusing a pub doorman while off-duty at a Christmas party have been cleared.
PC Peter Lawson, 38, and Special Constable Philip Upton, 29, of Wiltshire Police, were accused of racially abusing Antonio Leo, in Bath.
PC Lawson, of Anzio Road, in Devizes, and Mr Upton, of Suffolk Road, in Westbury, denied the charges.
They were cleared by a jury at Bristol Crown Court, following a week-long trial over the incident in 2010.
The officers had been accused of verbally insulting doorman Mr Leo, who is of Italian descent, swearing at him and calling him "Polish" and "foreign".
The pair were at a party for Wiltshire Police's roads policing unit, of which they were both members, when the incident was said to have taken place.
'Bit heavy-handed'
It occurred when Mr Leo, 39, and colleague Paul Owen, 26, asked the group of officers to leave the pub because of their "boisterous behaviour", the court heard.
Mr Upton told jurors that neither he nor PC Lawson had racially abused Mr Leo.
He said: "My opinion is that Mr Leo was certainly being a bit heavy-handed, and when he later found out we were police officers, and remembered I had asked for his badge, he thought a complaint was coming."
PC Jeffrey Rice, who was at the party, said nobody had been aggressive but they were simply loud with a lot of "banter".
The jury found the two defendants unanimously not guilty of the charges they faced.
Mr Upton, who denied a charge of causing racially aggravated harassment, alarm or distress, has since resigned as a special constable.
PC Lawson, who denied a charge of causing racially aggravated fear or provocation of violence, has been on restrictive duties with the force and could face internal disciplinary action.
Internal review
A Wiltshire Police spokeswoman said: "It was only right that the allegation was thoroughly investigated.
"We expect the highest standards of our police officers and staff.
"Police officers should behave in a professional and respectful manner at all times.
"Any inappropriate behaviour, whether on or off duty, will be investigated and appropriate action taken."
She said the force would now carry out an internal review of the incident, originally investigated by Avon and Somerset Police, to assess whether PC Lawson's behaviour fell "below the standards of professional behaviour" expected.