Seized cars help Swindon College students with studies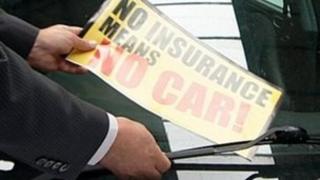 Students at a Wiltshire college have been making good use of vehicles that have been seized by the police for having no tax or insurance.
If unclaimed by owners the vehicles are given to Swindon College to help pupils learn vehicle maintenance skills.
A college spokesperson said having the vehicles enabled students to enhance their work experience prospects and boosted their confidence.
A Peugeot 206 has just been loaned with other models due to follow.
Vehicle lecturer Peter Morgan said the college was always short of cars and that he got the idea after speaking to the police.
"I saw officers at one of their drink-driving exhibitions and asked what happened to the vehicles that got seized," he said.
Mr Morgan said he was told more than a thousand were seized each year, and of those, about a third were never reclaimed.
Sgt Craig Hardy of Wiltshire Police said the scheme meant something useful came out of the seized cars rather than them being crushed.
"It gives the college the chance to choose if they want front-wheel drive, rear-wheel drive cars or four-wheel drive [to work on]."
"The sky's the limit with that many cars," he added.