Firearm campaigner's daughter robbed at gunpoint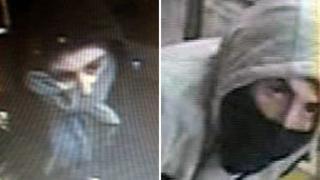 The daughter of a man who has waged a long-running campaign against firearm offences has been threatened at gunpoint in the shop where she works.
Bob Allis's daughter, who asked not to be named, was robbed by two armed men at Chaplin's newsagents in Chiseldon, Wiltshire, on Monday.
Mr Allis's brother Tony was shot dead near Stroud in 1990 following a boundary dispute with a neighbour.
Since then, he has campaigned for tougher penalties in relation to guns.
Mr Allis said: "This highlights things even further, things like this happening twice in the same family.
"These people need to be apprehended and taken out of society as far as I'm concerned.
"My daughter could very well be lying in a mortuary today."
Wiltshire police are appealing for witnesses to the robbery, which took place at about 06:30 GMT on Monday morning.
The two suspects, who were armed with a handgun and stole cigarettes and money, are described as white and aged in their 20s. One was approximately 5ft 9in (1.7m) tall.