Army to build 'Afghan compound' on Salisbury Plain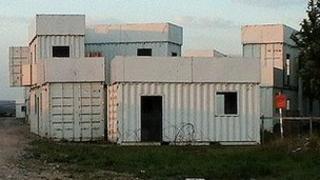 Compounds designed to replicate Afghan villages are to be built on Salisbury Plain to better prepare troops for deployment.
Defence Infrastructure Organisation (DIO) has been given planning permission to build 50 "simplified structures" at 27 sites on the plain.
The British Army runs major exercises on Salisbury Plain twice a year.
Lt Col Mark Hiskett said he was "delighted" as it would "enhance the realism of exercises for our soldiers".
The DIO has been given permission to install a total of 100 shipping containers with removable hoardings, to replicate Afghan houses.
Wiltshire Council approved the plans on condition the structures are removed by the end of 2015.
The 6m (19 ft) long shipping containers will be used to replicate civilian compounds to allow troops "to rehearse the type of day-to-day operations which they would carry out in Afghanistan".
"We're delighted that planning permission has been secured for the compounds - it means we are able to add to the existing compounds across the plain," said Lt Col Hiskett.
"We cannot replicate Afghanistan on Salisbury Plain, but we can put in place adequate infrastructure to enable essential tactics, tools and techniques to be rehearsed, practiced and perfected."
Work is due to begin on the facilities at the end of January.