Soldier admits killing disabled man in Amesbury car park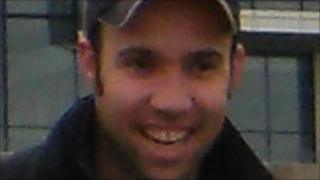 A serving soldier has admitted killing a disabled man in a pub car park.
Pte Daryl Talbot, 21, from Larkhill, Wiltshire, punched 34-year-old Jon Paul Garland twice in nearby Amesbury on 1 January, Salisbury Crown Court heard.
Talbot - who was based at the Royal School of Artillery at the time - had denied murder and an alternative charge of manslaughter, but has now changed his plea to admit manslaughter.
The University of Plymouth graduate died from head injuries.
Talbot claimed Mr Garland tried to headbutt him.
Prosecutor Simon Edwards said the Crown accepted the plea because the cause of death had been an unusual subarachnoid haemorrhage, where blood leaks out of blood vessels over the surface of the brain.
Custody warning
It happened because an artery in the upper neck had torn due to an impact.
Although Mr Garland had suffered cuts and bruises to his face - one possibly caused by him being kicked, the court heard - those would not have killed him and the injury he suffered would have been unforeseen.
The victim had a birth defect that left him with arms half the length of normal and with his hands not fully formed, so he could not defend himself.
Mr Garland had also been drinking and was relaxed and the movement of his head had contributed to his injury, the barrister explained.
"In order to prove murder we would have to satisfy the jury to a very high standard indeed that Daryl Talbot intended to kill his victim or cause him serious harm," Mr Edwards told the court.
"We take the view that the proper course of action is to accept the guilty plea to manslaughter."
Judge Guy Boney QC adjourned the case for reports, and sentencing will take place at Winchester Crown Court on 9 March.
Granting Talbot bail until then, the judge said: "Clearly there has to be a custodial sentence in this case."