Scientists measure climate impact on Wiltshire salmon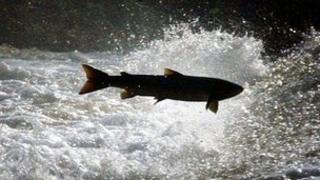 Scientists are measuring the impact of climate change on salmon and trout populations at a nature reserve in Wiltshire.
Four temperature monitors have been installed along a stretch of the River Wylye at the Langford Lakes nature reserve, near Salisbury.
Scientists from Wiltshire Wildlife Trust will take readings every 15 minutes, helping them to analyse any benefits cooler water has in encouraging more salmon to swim upstream and spawn.
Over the past five years, the number of salmon swimming up the river at Knapp Mill, where the Salisbury Avon enters the sea, has halved.
'Special software'
Langford Lakes warden Chris Riley said that three years ago there were five spots where the salmon lay their eggs in the gravel, but last winter there were none.
"If this continues, the salmon could be extinct in Wiltshire in just three years," he said.
"This data will be uploaded to a laptop computer and special software will be used to collate and analyse the results.
"It will connect with dozens of temperature monitoring points throughout the Salisbury Avon and its tributaries and will help guide management of the river system to protect the future of fish."