Wootton Bassett road sign cash given to Help for Heroes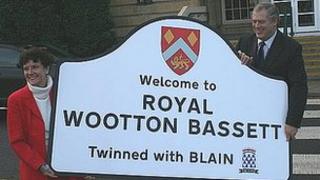 Money raised from the sale of Wootton Bassett road signs has been given to the charity Help for Heroes.
Wiltshire Council sold four signs in an online auction after the town received royal patronage last year, meaning it is now called Royal Wootton Bassett.
Two "Welcome to Wootton Bassett" signs sold for £1,170 and £920, while two newer "Welcome to Royal Wootton Bassett" signs raised £1,230 together.
A cheque for £3,320 was handed over to the charity earlier.
The two originals were bought by John Rutherford from Hemlington near Middlesbrough.
'So important'
Tricia Bennett-Yard from Hartley in Kent paid £510 for one of the newer signs, which was made for the town's renaming ceremony.
Her son is a serving member of the RAF but she said she bid on the sign "purely to support Help for Heroes".
The sign is now on display in her study.
"I didn't really want a Wootton Bassett sign in my study but it was to remind me of all the men that came home and all the men we're trying to help recuperate," she said.
"I think it's so important to get them back on their feet and their lives back on track.
"We owe them and it's important we let them know that we all care."
In October, Wootton Bassett became the first town in Britain in more than a century to be given a royal title.
A spokesman for the Conservative-run administration said rather than throwing the signs away, it wanted to raise money for Help for Heroes.