Wiltshire gritters spread more salt ready for cold night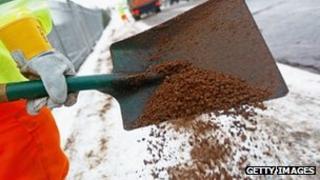 Gritting teams working overnight to keep Wiltshire's roads clear are asking motorists to drive carefully.
More salt will be spread on primary and secondary routes as the roads are wet and minus temperatures are forecast overnight.
On Saturday, snow fell across many parts and sub-zero temperatures made for dangerous driving conditions.
Hart Hill on the A350 and Derry Hill in Calne were described as impassable for several hours.
Also the A3102 was closed at Westbrooke Road after an electricity pylon came down on the road.