A £65m ski slope plan for Swindon to be discussed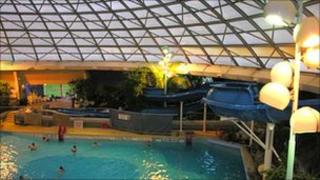 A ski slope is being planned as part of a £65 million redevelopment of Swindon's Oasis Leisure Centre.
Swindon Borough Council is negotiating with Moirai Capital Investment Ltd to bring a ski slope, expanded water park and concert arena to the town, by 2014.
The council said it cannot afford the refurbishment and has offered a 999 year lease on the centre in exchange.
Councillor Rod Bluh said: "The sort of scale of investment we're seeing here can only come from the private sector."
Conservative Mr Bluh, leader of the council, said the development will be a "major regional leisure destination" attracting an estimated 4m visitors a year.
"We're talking about 1,700 jobs in total of which 1,000 will be permanent," he said.
"This is really, really exciting news for Swindon - we're talking about a complete revamp of the Oasis which has been a critical factor in all of this because it's an ageing building and the roof is failing.
"And this is not going to get done any other way - if we were to wait for council resources to deal with it we'd be waiting for a very long time."
Martin Barber, chairman of Moirai, said Swindon was "the perfect site" for a new ski slope.
"We've built three of these before one in Milton Keynes, one in Castleford and another one in Braehead," he said.
"And I've been looking for years for one that can draw from the west side of London and the south and also from Bristol and this is the perfect site."
Refurbishment of the existing Oasis centre, including replacing the dome roof, is due to be completed in the first 12 to 18 months.