Gritters out in Wiltshire amid warnings of ice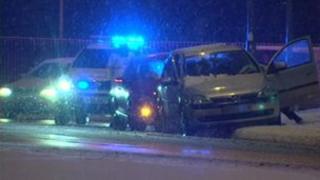 Gritters are out across Wiltshire after snow fell in the early hours of the morning.
About an inch (2.5cm) has settled across the county with north and west Wiltshire including the M4 corridor worst hit.
A Met Office weather warning remains in force warning of ice on untreated roads.
Railway operator First Great Western said all rail services out of Swindon were running as normal.
Bus operators Thamesdown and Stagecoach said their services are running as usual with no problems to report.
BBC weather presenter Jemma Cooper said in terms of the snow Wiltshire saw the worst in the West.
"We're not expecting any more snow this morning but ice is more of a concern.
"However we will see some sunshine later and as temperatures get above freezing the snow and sleet that's lying around will start to melt," she added.
Travel information can be heard on BBC Wiltshire on 103.5 and 104.3 FM along with the latest weather forecast.