Swindon hospital workers out on first of three strikes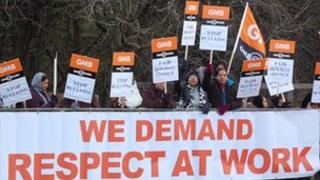 Support workers at Swindon's Great Western Hospital have begun the first of three one-day strikes.
Porters, cleaners and domestic staff have walked out over alleged managerial "bullying and harassment" by contractor Carillion.
The GMB union, which represents 150 of Carillion's 200-strong workforce, said 97.3% of voters backed the action.
Carillion said it was disappointed by the walkout but was "100% confident patient care will not be impacted".
General hospital manager Gemma Lynch said: "We'll make sure that people have the necessary inductions, training and health and safety will be covered, so I'm 100% confident that it will be business as usual."
Further strike action is planned for 21 and 23 February.