Swindon Mechanics' Institute owner to pay for repairs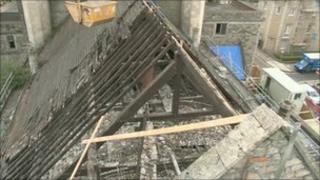 Swindon Borough Council has been told it can recover at least £330,000 from the owner of the derelict Mechanics' Institute building in the town.
Forefront Estates Ltd was taken to court by the authority claiming it was owed money for essential repairs to the Grade II* listed building.
A High Court judge has ruled the council is entitled to claim £331,000, plus £13,250 interest, from the owner.
Forefront also owes the council £60,100 for the cost of the legal proceedings.
'Sustainable future'
A spokesman for the Conservative-led council said the judgement "fully vindicates the actions we took to make the building safe".
"We will continue to work with all interested parties to find a sustainable future for the Mechanics' Institute," he added.
The former Mechanics Institute building has stood empty since the mid-1980s but was bought by Forefront in 2002.
In September 2010, the council removed part of the roof saying it was in danger of collapse.
Control of the building was seized by the council in July 2010, after an April deadline to provide a repairs schedule was missed.
At the time, the council architect Nick Newland described the condition of the roof as "trashed" and said it was like a picture you would see from the Blitz.
The Mechanics' Institute opened in 1854 as an educational centre for railway workers, but closed in 1986.
Owners of listed buildings have a legal duty to ensure they do not deteriorate.