Wiltshire drugs gang ringleader told to pay £2.6m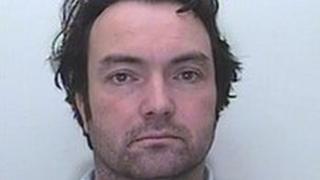 The ringleader of an international drugs gang based in Wiltshire has been ordered to pay £2.6m or face an extra eight years in jail.
Police believe David Barnes made as much as £29m from illegal activities and are seizing it under the Proceeds of Crime Act.
Barnes, 42, of Berkshire, was convicted of conspiracy to supply Class B drugs and jailed for 12 years in 2010.
Barnes claimed that he had made just £50,000 net profit from the operation.
But Judge Jamie Tabor QC rejected the claim and said: "The Crown suggests that Mr Barnes has salted away the profits that he has made from the enterprise.
"I suspect that the profit made was substantially more than that suggested by the prosecution.
"Nevertheless, if the prosecution is correct, Mr Barnes made a minimum net profit of £2,652,925.
"I am quite satisfied that Mr Barnes was the principal mover in this conspiracy in the UK.
"Regrettably he has lied to the court yet again. As I said earlier I believe the prosecution formulation to be overgenerous, however, I am prepared to accept it.
"Mr Barnes' net profit was £2,652,925. At least this figure has been hidden and probably spirited out of the country."
During the trial, Bristol Crown Court heard Barnes and seven other gang members were caught after 10 tonnes of skunk cannabis was found at a farm in Wanborough near Swindon in April 2009.
The gang had smuggled the cannabis into the UK among shipments of flowers such as tulips and chrysanthemums.
It was then driven in lorries to Wiltshire.
Wiltshire Police said it was one of the largest drug distribution operations seen in the UK.
Police believe the gang transferred millions of pounds out of Britain by taking cash by car from Swindon to London.
From there a courier would go to a high street money bureau and wire the cash to bureaux in Afghanistan, Pakistan and Dubai.
It was then collected and the trail ends.
Barnes has six months to pay the £2.6m or his jail sentence will be extended.