Longleat estate public access 'being reviewed'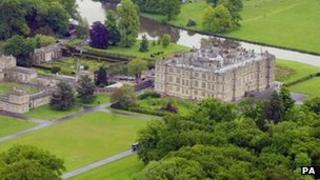 Officials at the Longleat estate in Wiltshire say they are reviewing whether to keep parts of the grounds open to the public because of security and safety concerns.
A spokesman said "areas of concern" had been identified around Longleat House and its gardens and attractions.
He added said the measures affected "less than 10%" of the estate.
It follows reports from cyclists that they have had problems with access to the route and signage has been removed.
In a statement, the estate said: "Like everyone else, Longleat has to demonstrate to our insurers we have taken all reasonable steps to protect and secure our property.
"Improved control of access to the estate was a prerequisite of any policy.
'Dangerous animals'
"We have been advised by the police that our security measures need to be significantly tightened as Longleat is a known target for theft and armed robbery.
"Areas adjoining Longleat House and the surrounding grounds are home to a wide range of exotic and, potentially, dangerous animals.
"It is something that we have been forced to address as a matter of urgency.
"No-one wants to have to make these difficult and potentially unpopular decisions but sadly we are now at a stage where we no longer have any choice."
It also said there was "an ongoing and growing problem with a minority of irresponsible dog walkers who are failing to clear up after their pets and are also refusing to keep them under control in areas close to vulnerable wildlife".
A spokesman said a meeting with the local community was being arranged for a date to be decided in March.
On Thursday Sustrans, which runs the National Cycle Network, said part of the route through the Longleat estate would have to be diverted if an access agreement is not reached.