Swindon head teacher cleared over restraint allegations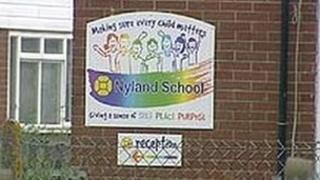 A former head teacher in Wiltshire has been cleared over allegations he had restrained children inappropriately.
Paul Sunners resigned from his position at Nyland Special School in Swindon during an investigation by the NSPCC in which several teachers were suspended.
It was alleged that Mr Sunners had, on various occasions, used inappropriate methods to restrain children or to escort them around the school premises.
A General Teaching Council report said it found these allegations not proven.
The professional conduct committee, which examined the case, concluded that it had felt the evidence provided by a key witness was not reliable.
Bullying policies
Mr Sunners was also accused of failing to keep appropriate records and failing to update school policies while he was the school's head teacher.
It was also alleged he had allowed pupils to be absent from school for significant periods of time by using "authorised absences" in cases where it was inappropriate to do so, and was complicit in keeping an inaccurate school attendance register.
Against these allegations, the committee decided that it was down to the head teacher's discretion to allow absences as he saw fit, and Mr Sunners had not broken any rules by doing so.
However, the committee decided he had failed in his duty to update school bullying policies and child protection policies - both of which were fairly key in a school which has pupils with difficult emotional needs.
The case concerned a period between 2004-2008 when Mr Sunners was head of the school which caters for 5-11-year-olds with social, emotional and behavioural difficulties.
'Serious allegations'
He said: "I would now like to take this opportunity to thank my family, friends, teaching colleagues, ex governors and many parents and local schools for their support during the past three years."
According to Swindon Borough Council, three members of staff were dismissed for gross misconduct and three were re-instated.
It also said that, as Mr Sunners resigned from his post before his hearing was completed, the council was unable to come to a conclusion in his case.
A council spokesman said: "The protection of children is the council's first priority and we acted entirely correctly in suspending staff at Nyland School following the very serious allegations that were made.
"The subsequent investigations, and the disciplinary hearings that followed on from them, were appropriate and necessary."