Transport union backs striking Swindon hospital staff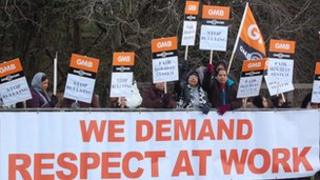 A transport union is backing cleaners at Swindon's Great Western Hospital in a dispute with their employer.
GMB members are on a third day of strike action over alleged managerial "bullying" by contractor Carillion.
Now the RMT union is supporting the GMB after it discovered its members' pension fund is a major shareholder in Carillion's parent company Semperian.
Semperian has yet to comment but Carillion said it was disappointed that strike action was continuing.
The GMB union, which represents 150 of Carillion's 200-strong workforce, said it had approached London transport unions for support after it discovered that London Transport Pension Fund was a major shareholder in Semperian.
Paul Kenny, GMB general secretary, said: "No doubt they [the transport unions] will be as shocked as we are that their members' pension funds are being used to prop up a system of bullying and harassment of workers there."
'Consider industrial action'
Bob Crow, general secretary of the Rail, Maritime and Transport (RMT) union, said it did not want to contribute towards the pension scheme "which down the line is making other workers in this country worse off".
"At the end of the day it could end up as a dispute with London underground workers - if their money is being used to exploit other groups of workers," he said.
"We want the trustees of the pension fund to tell the company that you don't exploit workers anywhere and if they don't listen to that then we'll get our investment moved.
"And if they don't listen to that then we'll have to consider industrial action because we aren't going to use our money from our members to exploit other workers."
Porters, cleaners and domestic staff at the hospital staged 24-hour walkouts on 14 February and 21 February.
On Monday it was announced that a hospital manager had resigned over the issue.
GMB members are currently on their third one-day strike, with a further three days of strikes due from Monday.