Police use night vision goggles to combat crime in Swindon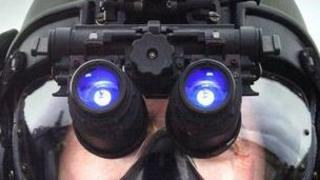 Night vision goggles are to be used by police in an area of Swindon blighted by thefts from allotments.
The measure has been brought in after negotiations with the parish council in Stratton and the local community beat manager, PC Frank Key.
The council agreed to fund the goggles for the neighbourhood policing team after complaints about security at several allotments in the area.
PC Key said the goggles would act as a deterrent during night patrols.
He said: "If local criminals know we've got this extra vision capability at night, they will think twice about committing crime."
PC Key said there had been a spate of reports of sheds being broken into and equipment stolen. Allotment owners have also reported crops being destroyed or stolen.
"Any incidents like this are distressing and we'll do whatever we can to eradicate it," he said.
'Cost-effective'
Stratton St Margaret Parish Council clerk Paul Russell said: "We see it as a very cost-effective way of addressing a particular issue in our locality."
Mr Russell said a set of night vision goggles would cost about £300 and would be funded through the council's community grant.
The effectiveness of them will be assessed.
The goggles will be shared with community beat officers in other sectors and if the scheme proves successful, further pairs will be bought.
PC Key added: "It's a really good example of a partnership working with the neighbourhood police team and the local council to highlight issues and provide cost-effective solutions to them."