Longleat estate access meeting to take place in March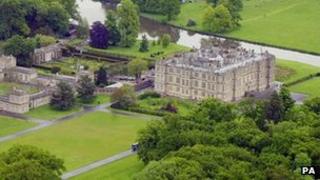 Officials at Longleat in Wiltshire are to hold a meeting next month for people concerned about public access.
Last week they were reviewing whether to keep parts of the estate open to the public due to safety and security concerns.
It follows complaints from walkers and cyclists that they have had problems accessing routes through the grounds.
The estate said the meeting would give people a chance to hear about the "broader plans" for Longleat.
The meeting will take place at the Civic Centre, Warminster on 13 March at 19:00 GMT.
Longleat's CEO, David Bradley, said: "This is an opportunity for the local area to meet the management team at Longleat and discuss and ask any questions they may have."
Safari park plans
The estate said the meeting would be for "people living in areas surrounding the Longleat estate, including Warminster and Frome".
It said it would also be a chance for people to see its plans for a safari and adventure park.
Last week Longleat said it had to "demonstrate to our insurers we have taken all reasonable steps to protect and secure our property".
Sustrans, which operates part of the National Cycle Network through the estate, has previously said a 10-mile-long detour via Maiden Bradley would have to be introduced if an access agreement was not reached.
Longleat said a separate meeting with Sustrans would take place ahead of the public meeting, to discuss this issue.