'Lark Rise' quarry in Wiltshire to reopen after 50 years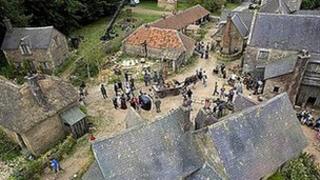 A quarry on a Wiltshire estate where a BBC drama was filmed is set to reopen for the first time in 50 years despite objections from local residents.
Ham and Doulting Stone Ltd wants to reopen Park Lane quarry, an 80 hectare (197 acre) mine, under Neston.
It has a permit to mine Bath stone but needs "a number of modern planning conditions", Wiltshire Council said.
The underground quarry is below Neston Park, the estate where Lark Rise to Candleford was shot.
Residents claim reactivating it will create levels of noise and dust that will devalue their properties.
Planning permission enabled the site to be quarried in 1950, but operations have been dormant since the 1960s.
The original route to the underground workings, Park Lane, is now a designated bridle way.
Ham and Doulting wants to build a new road access off Rough Street to the east of the village.
But the application has attracted more than 40 letters of objection, from residents concerned about HGV traffic through Neston village.
One, Jay Macleod, said: "We aren't against reopening the mine, but it's just where they want to drive their lorries.
"They'll be going through the village, and through all our country lanes and narrow roads and it will literally destroy our village."
However, Zak England, from Ham and Doulting, said the firm is "only allowed two lorries a day".
"People are claiming that there will be 10-artic lorries a day taking stone out of the mine but it's simply not possible to get that amount of stone out of the ground," he said.
Bath Stone 'needed'
"In fact, we're only allowed two lorries a day and 99% of the work will be underground so people will not even know it's there.
"There's only three mines mining Bath Stone and this is a material that's needed."
A Wiltshire Council spokesperson said in a statement: "At a recent planning meeting, it was agreed that Neston villagers would be asked whether lorries to the quarry should use the previous route called Park Lane or a new route off Rough Street.
"Once officers have the feedback a report will be sent to the next planning committee in April."
A planning committee meeting is due to be held on 11 April.