Highworth camping stunt raises thousands for charity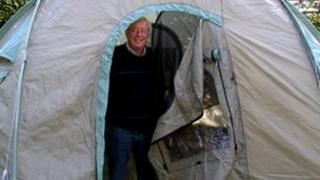 A man who spent a week in a tent in a town centre in Wiltshire has raised thousands for a disaster charity.
Terry Williams, from the Swindon North Rotary Club, spent seven nights in an emergency tent from charity ShelterBox in Highworth's Market Place last month.
The 62-year-old, who wanted to try living in a tent, raised more than £6,000 in the camp-out.
Mr Williams said despite "a few disturbed nights" it had been "a good experience".
In the run up to the event, Mr Williams spent several nights sleeping in his garden in temperatures as low as -10C (14F) in preparation for the challenge.
And during the seven night camp-out, which ended on 25 February, he received support from local businesses.
Breakfast and lunch were delivered by two cafes while dinner was provided by restaurants in the area.