No payout fear for Devizes patient over ventilator switch-off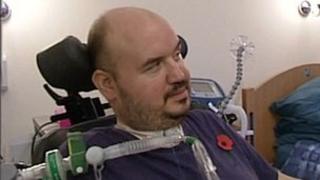 A man left severely brain damaged after a nurse mistakenly switched off his ventilator fears he may never receive compensation, his solicitor has said.
Tetraplegic Jamie Merrett's nurse Violeta Aylward was caught on camera switching off the machine in 2009.
She worked for recruitment agency Ambition 24hours, but it did not have medical negligence insurance as it was not required to.
It explained that Ms Aylward should instead be covered by her professional body, the Royal College of Nursing (RCN).
But the RCN said it was no longer prepared to indemnify Ms Aylward.
In a statement, the organisation said: "The RCN indemnity scheme applies to members working in both the public and independent sectors.
"Our indemnity scheme, like insurance policies, is subject to certain conditions and exclusions.
"The RCN declined to indemnify the nurse in this case because of her complete failure to co-operate with us.
"Despite making every effort to engage with the nurse, we were left without information or legal instructions.
"At this stage, it would be inappropriate to comment further on legal proceedings that are ongoing.
"However, it is important to note that there are other defendant parties to these proceedings."
It added: "For the avoidance of doubt, the payment of any compensation and costs under the RCN indemnity scheme is entirely in the discretion of the RCN Council, subject also to you satisfying the conditions set out here.
"The RCN scheme is not a policy of insurance."
'Beggars belief'
Solicitor Seamus Edney, of SJ Edney in Swindon, who is acting for Mr Merrett, said Ms Aylward's indemnity had been "withdrawn at a very late stage in the case".
"She's now liable in person for any damages which are awarded to Jamie," he said.
"It just beggars belief that a nurse could find herself in this situation, where the RCN can withdraw indemnity.
"There must be many other nurses out there who are working for a supply or recruitment agency and they find that they may not have cover from their professional body."
Mr Merrett, from Devizes, had been cared for at home since 2002 and set up the camera at his bedside in 2009 after becoming concerned about the quality of his care.
Extra care
He had been left paralysed from the neck downwards in a road accident, but was able to use a wheelchair and talked using voice-activated technology.
His ventilator was switched off for 21 minutes and eventually restarted by paramedics but Mr Merrett had already suffered serious brain damage and now needs extra care.
Mr Merrett's solicitor has now lodged a claim against Invent Health, a private agency which sub-contracted the work to Ambition 24hours.
Invent Health said it could not comment on the case because of the claim.
Mr Edney said: "There is a risk of course that we may not succeed and because there is no insurance Jamie may not get his damages."
Ms Aylward, who has not responded to a request from the BBC for a comment, is due to appear before the Nursing and Midwifery Council next week to face a range of charges that include not being familiar with how to operate a ventilator.