Soldier jailed for Amesbury car park death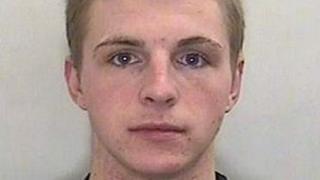 A soldier who killed a man in a pub car park has been jailed for 28 months.
Pte Daryl Talbot, 22, from Larkhill, Wiltshire, punched 34-year-old Paul Garland twice in nearby Amesbury on 1 January 2011.
Talbot denied murder and an alternative charge of manslaughter, but then changed his plea to admit manslaughter, which was accepted by the prosecution.
He was jailed at Winchester Crown Court on Friday.
The court heard that Mr Garland, a University of Plymouth graduate, had a birth defect that left him with arms half the normal length and hands that were not fully formed, so could not defend himself.
Simon Edwards, prosecuting, said Talbot, who was based at the Royal School of Artillery at Larkhill, had argued with his girlfriend Alexandra Smith and was angry when he met Mr Garland in the car park.
"The defendant struck Mr Garland on more than one occasion to the face and head with tragic results," he said.
Mr Garland, who worked in IT for the Ministry of Defence, was pronounced dead at the scene.
'Appalling tragedy'
The cause of death had been an unusual haemorrhage, where blood leaks over the surface of the brain, the court heard.
Nigel Pascoe QC, defending, said: "What he did happened in a very short period of time with devastating consequences."
He said Talbot, who was drunk at the time, had hit Mr Garland with two blows and might have kicked him on the ground.
"This appalling tragedy must have taken 25 seconds - the confrontation, the blows and running from the scene," he said.
In a statement read to the court, Talbot said: "There are no words which I could say to explain my actions or show how sincerely sorry I am."
Jailing Talbot, Judge Guy Boney QC said that Mr Garland's disability had left him unable to defend himself from blows or to prevent a fall.
"He was the kind of courageous young man who made light of his disability and allowed it to interfere very little with his active life," he said.
The judge said the haemorrhage could not have been foreseen and had been an "unpredictable" consequence of the blows.
He added: "The aggravating features here are there was not one blow struck, but two, and most certainly a kick as described by your girlfriend, the only witness."