Nurse Violeta Aylward 'filmed switching off patient's ventilator'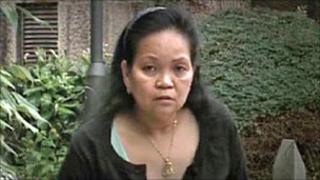 An agency nurse was filmed switching off the ventilator of a tetraplegic man then trying to switch it back on again, a disciplinary hearing was told.
Violeta Aylward faces an allegation of misconduct in relation to a shift caring for Jamie Merrett, 39, in Devizes, Wiltshire, in December 2008.
Mr Merrett had CCTV installed in his room after becoming concerned about the quality of his care, the Nursing and Midwifery Council (NMC) was told.
The hearing continues.
The conduct and competence panel was told Mr Merrett, named only as Patient A in the hearing, was "completely dependent" on a mechanical ventilator to breathe and needed 24-hour care following a road traffic accident in 2002.
Neil Moloney, for the NMC, said that in early-December 2008 Ambition 24hours Nursing Agency had been asked to provide a nurse to cover some shifts caring for Mr Merrett and had been aware of the requirement that the nurse must have either intensive care unit (ITU) training or experience.
'Very anxious'
"On two previous occasions Patient A had experienced significant failings in his nursing care in relation to his ventilator," he added.
"He was very anxious about a recurrence of any such incident and he had therefore had installed CCTV in his room.
"The registrant [Ms Aylward] was not involved in the previous occasions."
When Ms Aylward went to care for Mr Merrett she was on the books of the agency as a registered learning disabilities nurse and had no ITU training or experience.
Mr Moloney said footage from the CCTV showed Ms Aylward switching off Mr Merrett's ventilator and then pushing buttons in an attempt to turn it back on at the start of a night shift on 8 January 2009.
The hearing was told a 999 call was made by a care assistant and Mr Merrett was transferred to hospital intensive care.
A police investigation was undertaken after the incident but when the Crown Prosecution Service (CPS) considered the case it was decided there was "insufficient evidence" to prosecute Ms Aylward for the criminal offence of causing grievous bodily harm, Mr Moloney said.
Ms Aylward, from Reading, is not present at the hearing which is scheduled to last until Friday.